Overall
The interface was very easy to use and I had no problems finding my way around it quickly. Options were pretty easy to find and straightforward. They provide help throughout with little question mark icons that you can click on to find out more. They also provide a drag and drop design editor that is easy to use. There is a nice initial wizard that helps you to get started quickly and populate your store with some sample items. The interface and store both loaded quickly which is important. 3dcart is one of my favorite shopping carts and I would recommend it to anyone looking to get started online.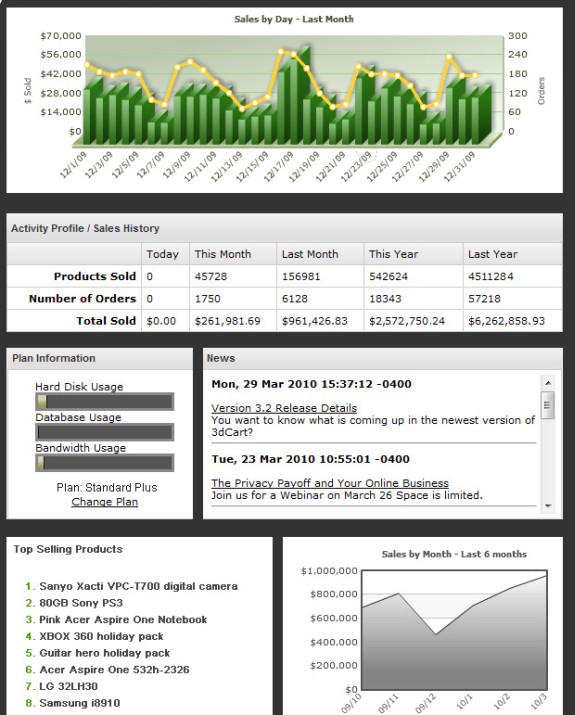 Dashboard
Design
There are 63 free designs available and they are all very beautiful looking and easy to edit. The designs are mostly generic in nature and can be used for any type of business. The drag and drop design editor is easy to use and enables moving of design elements from the left to right side or center very easily and turning on or off things like the top sellers, pricing by group and such. You can also select from many more paid designs at $199 each. Note that during my 3dcart review they were offering a free premium design with purchase so be on the lookout for specials like this.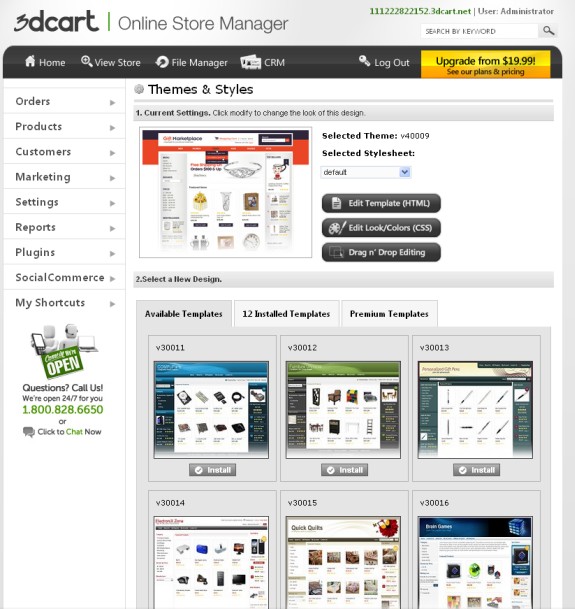 Design
Marketing & SEO
All pages include the ability to setup meta tags for html optimization and the urls are search engine friendly.
Speed
Both the admin interface and the store interface were very responsive and loaded quickly.
Cost
Cost is comparable with other similar merchants, a little bit less than the very top tier and plans are very comparable. All fees are monthly and include hosting and support.
Service & Support
When reviewing shopping cart software I always try to test out their support to see if it measures up. I feel this is a very important piece of running an ecommerce store. With 3D Cart I tried 3 times to chat and all 3 times I waited at least 10 minutes for someone to come online and help before I gaveup. Twice the live chat message said I would need to wait 20+ minutes and the third time it said less then 5 minutes. No one ever came online any of these times. Live chat is my favorite method of support but I eventually gave up and moved to their phone support. The first time I tried to call I was told everyone was in a meeting. The next 2 times I was put on hold, waited about 5 minutes and then I gave up. My time is to valuable to wait on hold forever. I eventually sent an email with questions and was sent back a near immediate reply. A few days later I again emailed another question and the response was near immediate and very good. Bottom line if you are ok with email support they do an excellent job. I cannot vouch for the other methods of support however as I was a bit disappointed there.
Extensive help documentation available online as well as inline help shown on each screen for immediate information. I found the help very easy to use and rarely needed it as most things were self explanatory.
Praise
I really like the selection of social media tools that this cart has available including many that I did not find anywhere else. Some of the fantastic social media tools include a blog, Twitter/Facebook status updates, social bookmarking, a Facebook store, autoresponders, and built in affiliate tracking.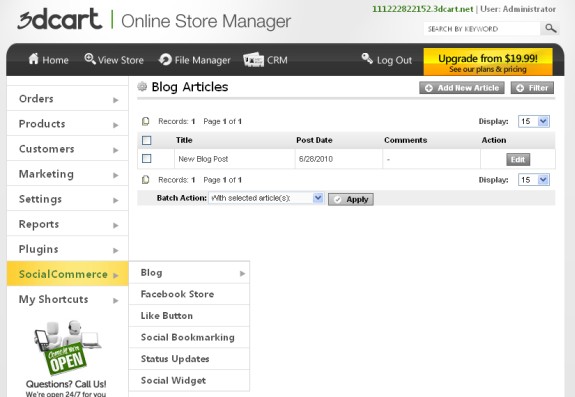 Social Media Tools
During my free trial for this 3dcart review I was contacted by a 3dcart ecommerce expert who was offering to help me get started. This was something that no other cart did. Ie others called me to ask if I had questions but none offered an actual expert to help me out with what to sell and how to go about doing it. This is a very nice feature if you are new to ecommerce.
Potential Issues
Inventory Control: When you initially signup inventory control is enabled. If you do not enter in a item quantity all of your items are shown as out of stock. This is an easy fix from the settings area or by changing the item quantity but threw me off a bit.
Store Errors: Upon trying to sort my store categories by different areas I was presented with an error. I did try this later and it appeared to be resolved but this did scare me a bit. Had I been an actual customer I would of called them immediately.