Overall
Honestly I can say that when I first started this WooCommerce review I did not expect much. I guess I'm a bit of an ecommerce snob and I thought that a free online shopping cart couldn't be that great and WordPress isn't made for ecommerce so I really did not expect much. I'm happy to say that I was really pleasantly surprised with this WordPress shopping cart plug-in. The admin interface is really beautiful and easy to use. I'm a WordPress newbie but I very few problems figuring out where anything was an how to setup the shopping cart.
Settings
Design
There are 13 free designs available and they are all very nice looking but none are specifically suited to ecommerce. You can join their theme club which gives you access to all of the designs for $125 plus $15 per month. This seems really reasonable since they have over 122 themes with more added every month, 15 designs are ecommerce specific designs. The designs are professional looking and cover a wide variety of business types. It's worth noting that in most cases you would pay about $200 just for a single professional template so this is a great value and it includes support as well.
WooThemes
Inventory
Inventory is one of the strong points for the WooCommerce shopping cart. The inventory interface is easy to use and there are quite a few options for a free offering. You can setup an item to be downloadable, pick items to cross or upsell, set a special price for a particular date range, add attributes and have the store track quantity in stock as well.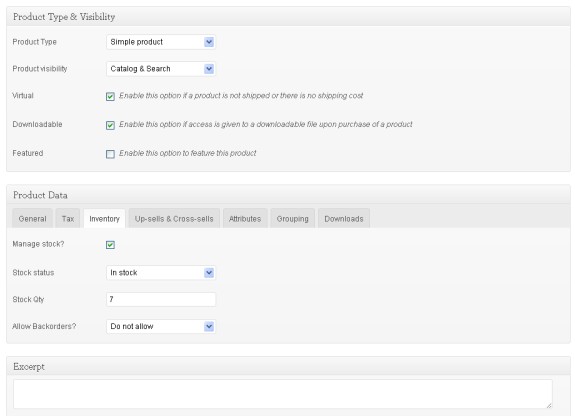 Item Edit
One important feature missing here in the inventory is the ability to import and manage multiple items at a time. Ie there is no mass import facility, items can only be managed via the item edit UI screen. Conversely there is also no export utility for items or any other information.
Shipping
Shipping is one area that I feel is slightly confusing and lacking in functionality in the WooCommerce interface. There are 2 shipping setup screens and then a shipping class area. The shipping classes can be setup to group like items for shipping, ie perhaps lighter items have one fee and heavier items have another fee. Beyond that with the free version all you can do is setup shipping to calculate either on per item, per total, or per shipping class. To get further advanced shipping methods like table based shipping or realtime shipping you must buy an extension. The extensions are approximately $50 per shipping provider.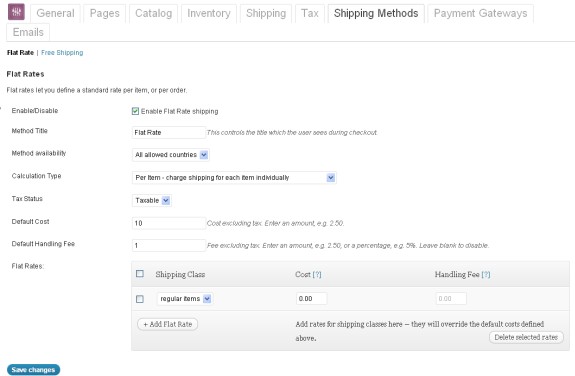 Shipping
WooCommerce also supports free shipping and within the free shipping you can choose whether a coupon is needed, which countries to allow and also if there is a minimum purchase amount.
Taxes
Taxes can be defined at the country or state level and different tax classes can be defined to support different tax rates. There is no support at this time for zip code level taxes. US merchants please note that depending on your state you may be required to charge local taxes per zip code and current WooCommerce does not support this. In general the tax settings for WooCommerce seem to lean more towards EU options such as allowing the taxes to be shown as part of the item price.
Taxes
Customization
Customization is done via WordPress themes and for the purposes of this WooCommerce review I did not attempt customization so I cannot comment on the ease of use.
Marketing & SEO
All pages include the ability to setup meta tags for html optimization, the urls are search engine friendly and the structure of the urls can be changed as needed.
There are very few marketing features available. Most shopping cart include feeds to different shopping feeds and integrations with third party products that help with marketing functions. In the free version you cannot create any shopping feeds automatically and the only marketing feature supported is coupons.
Reporting
There are reports for sales...by day, by month, top selling products, top earners and reports for customers and products that are low on stock. The reports are simple but helpful.
Order Reports
There is no facility to export the report data or any data that you add to the system.
Payment Gateways
The choice of payment gateways is very limited in the free version. You can setup bank draft, check or Paypal standard payments. PayPal is the only actual online payment method supported the others are arranged offline. You can purchase extensions at about $50 each for different payment gateway support as well.
Payment Gateways
Integrations
In the free version there are really no integrations with third party products available beyond PayPal. If you are willing to buy extensions then there is integration with Googles product feed, realtime shipping providers like FedEx, a few payment gateways and extensions to move products from a few competitors.
Store Interface
The store interface is simple and easy to understand. All of the items are found under the Shop link and items are arranged by category. You can choose to feature certain items and whether you want to display items in the main category or only under the subcategories.
WooCommerce Store
Checkout
The checkout is very clean and simple. Simply enter in your name and address and pick a shipping method and you are done.
Checkout
Add to Cart
By default when an item is added to the cart you will see only a small message at the top of the screen as in the screenshot below. There is an option on the Catalog Settings page to also go directly to the view cart page after adding to the cart. I highly recommend switching to the option to show the cart after adding an item to the cart, several times I hit add to cart and thought that nothing was happening but it was.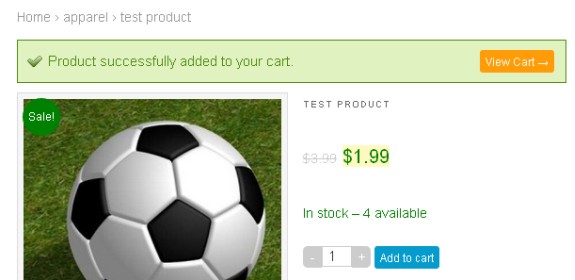 Add to Cart
If adding an item to the cart from the category page there is no message and no movement to the cart at all. This is extremely confusing to the user. If WooThemes is reading this WooCommerce review I hope that they see this as a flaw with the system that I hope they will correct in the future. In the meantime I suggest removing the add to cart buttons from your category pages if possible.
Speed
Since this is not a hosted ecommerce product, speed is hard to tell. The actual load speed will depend on the power of the host that you are using. My demo store for the WooCommerce review was hosted by WooCommerce the load time did seem a bit slow but I expect this will match whatever your normal WordPress load speed is.
Cost
You can't get a much better price than free. Of course they are using this free product to try and sell more of their paid services and extensions but I think they have really given away quite a bit for free here in order to get your business on the themes.
Service & Support
Support is NOT provided with the free version. You must upgrade to the paid version to even use their support forum. There is no phone number and no live chat available.
There are tutorials and theme documentation online however it is not easily tied to the store management and you must search for it separately. In general though I found the interface very easy to use and not much documentation was needed however the complete lack of support does scare me.
Praise
The free version is very simple but it does support some nice more advanced features like coupons, sale prices, item attributes.
I think in particular that WooCommerce has done a nice job of making their item pages very full featured even for the free version. They include upsells and cross selling, item attributes, downloadable products, different tax classes, sale prices and inventory control.
WooCommerce is also one of the only free WordPress plugins that I've found that allows you to actually try out a sample without needing to download the product and install it on your servers. This shows me that they are proud of their work and are not afraid to show it off to help you decide.
Potential Issues
Shipping: The free version includes support for only flat fee shipping. Ie you can calculate shipping at a flat rate for the entire order or per item. There is an extension available for table based shipping prices and another for each of the realtime shipping gateways but this can add up quickly at $50 per realtime shipping provider.
Payment Gateways: The free version can only process credit cards via PayPal standard. There are also extensions here that can be purchased for different gateways.
Support: There is no support at this time for the free version, not even via the forum.
Inventory: Items can only be uploaded and managed one at a time. I was unable to find any sort of mass import.