Overall
The Volusion software is extremely powerful, there are so many options available it will make your head spin. Volusion touts that they are the largest ecommerce provider with over 30,000 active stores as of Dec 2011. The software looks nice and is easy to find your way around. The reports are top notch and they have the best support of any of the carts we reviewed.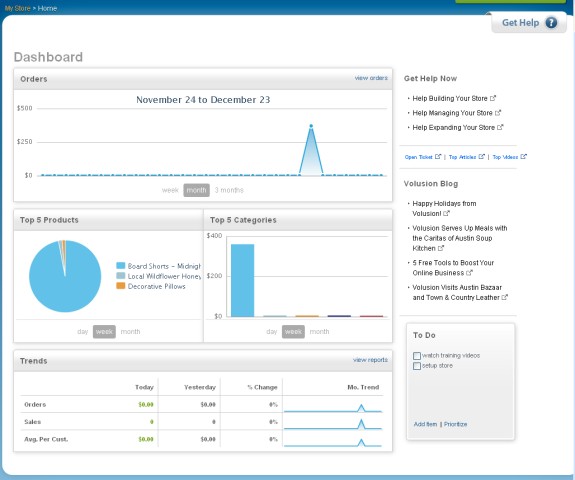 Dashboard
Design
At the time of this Volusion Review there are 144 free designs currently included with the shopping cart. This sounds like a lot but really many of these are just different color variations of the same basic template. There are only actually maybe a few dozen modern style nice looking templates that aren't just color copies. I think that Volusion is due for an upgrade here as they are behind BigCommerce and 3dcart with the number, quality and style of the free templates. There is also no drag and drop design editor in Volusion so to modify the template will require some html or css knowledge. There is a large selection of paid templates starting in the nearly $700 price range so if you are willing to spend some money this might be a good option.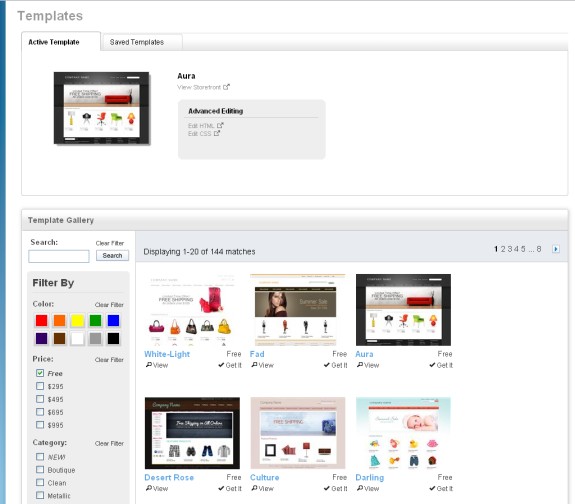 Design
Marketing & SEO
Volusion does offer SEO optimized pages but for some reason this is not turned on by default. You have to go into your SEO settings to turn this on. Who wouldn't want an SEO optimized shopping cart, this one puzzled me. Once the SEO optimization is turned on the pages are optimized pretty nicely automatically, make sure to do this right away since otherwise your store urls will change.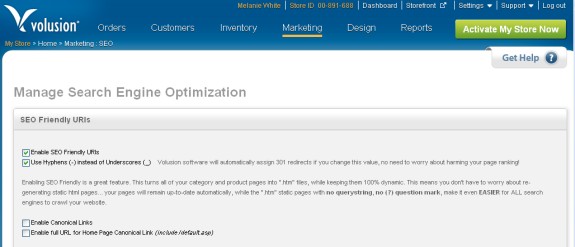 SEO
Speed
Both the admin interface and the stores themselves load quickly.
Cost
Pricing is comparable with other top hosted carts. Plans start at $19 per month for smaller stores and go up to $149 per month for larger stores.
Service & Support
Volusion excels in their support. This is the reason for their current popularity. If you have a problem with your site in the middle of the night, on the weekends or a holiday etc someone will be there to help. They offer phone, live chat and email support and I found all excellent to use with highly trained representatives who were quick to respond.
The Volusion online help is extensive but at times a bit confusing. There is online help throughout which I found very easy to use but the help pages themselves reference several different versions of the product and at times I found myself unable to figure out which version I was reading the help for because the suggestions did not match up to the interface I was seeing. Live support was able to rectify my confusion each time I contacted them.
Praise
The Volusion inventory management tools are very full featured. It is one of the few carts that support recurring billing in some manner. If you require recurring billing check them out.
The inventory control for different attributes of an item is very advanced and easy to manage compared to other solutions. This is important if you sell an item with many different variations, ie different colors and sizes etc. Volusion has the easiest manage of the color swatch functionality, this allows you to show different colors/patterns for your items.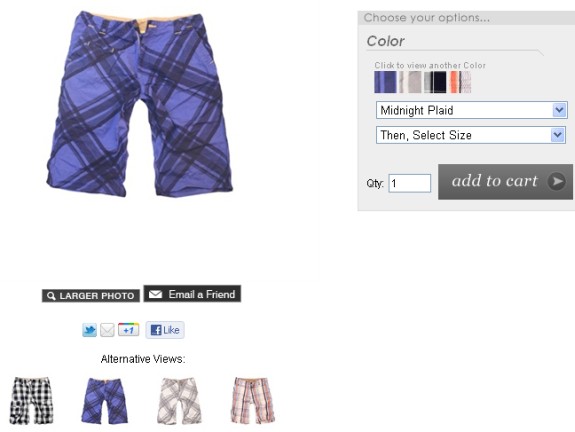 Color swatch display
As mentioned above Volusion is one of the few providers to offer true 24/7/365 support, see above.
Potential Issues
Limited Gateway Support: Volusion only supports a couple of payment gateways for payment processing. Make sure that they have support for your gateway before you signup. Currently the only gateways are Authorize.net and Skipjack.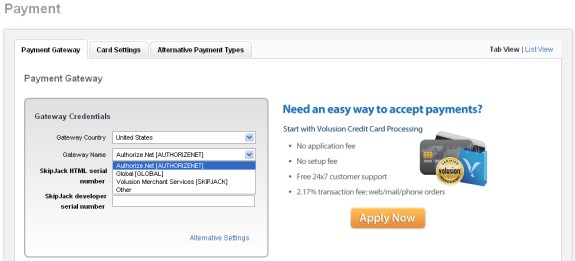 Limited gateway support
Limited Free Designs: As mentioned above in the design section Volusion is lacking in the design arena, prepare to spend some additional money on design if you go with Volusion.