Best Ecommerce Software Awards
I've scoured the internet to find the best ecommerce software in several different categories. There is no scientific method for the winners in each of these categories they are based purely on my own research and opinions after 10 years of experience working with different ecommerce software.
Best SEO Optimization: BigCommerce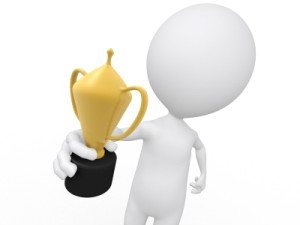 BigCommerce software has been optimized by SEO expert Aaron Wall. The urls for each product page automatically contain the item name and department pages contain the department name. There are no settings needed to turn this on it is automatically included with all stores and a webmaster sitemap is automatically created and updated.
Read the full BigCommerce Review
Best Support: PinnacleCart
PinnacleCart consistantly receives high ratings from customers for their live support. Phones are answered quickly, operators are native english speakers and are knowledgeable in setting up an online store.
Read the full Pinnacle Cart Review
Best Social Tools: 3dCart
3dcart has the best social tools of any shopping cart I have ever seen. They clearly take this area very seriously and see it as important for all merchants. Some of the fantastics social media tools included with the 3dcart ecommerce software are: blog, Twitter/Facebook status updates, social bookmarking, a Facebook store, autoresponders, and built in affiliate tracking. I think in the coming year we are going to see several of the other top ecommerce software makers coming out with similar versions based on what 3dcart is already doing.
Read the full 3dcart Review
Best Designs: BigCommerce
BigCommerce offers both quality and quantity when it comes to their free designs. They have the greatest number of designs overall, a very easy to use drag and drop design builder and designs for all kinds of businesses. The ease of use means that just about anyone can make their own design and shouldn't have to pay a designer to do so for them.
Read the full BigCommerce Review
Best Solution for Apparel: Volusion
Volusion offers excellent tools for managing complex items such as apparel. Its easy to track and update how many items are in stock for a particular size/color, and update color swatches. Their zooming and automatic resizing of pictures create layouts that are optimally suited to the display of items such as apparel which generally require large numbers of varying types of products. For instance if you sell a dress you might sell it in 5 different colors and 3 different sizes in some software this is a very tedious process but Volusion excels in making the display easy to understand and manage.
Read the full Volusion Review
Best Ecommerce Software Overall: BigCommerce
BigCommerce is our #1 site in our expect shopping cart reviews and the winner of several best ecommerce software awards in different areas. I just love this software they make it so easy for anyone to get a new store started.
Read the full BigCommerce Review
Comment